(Past Webinar) Success Secrets for New Supervisors and Managers: The First 60 days
Missed the live webinar? Get the recording! Click the purchase now button below and get immediate access to the recording.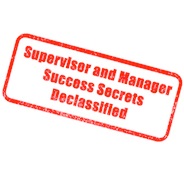 Recent research shows that 60 percent of new supervisors fail within the first 24 months and roughly 65 percent of managers learned leadership by "guessing" how to lead people. After being promoted, many new managers and supervisors struggle and fail in their new role because of their lack of leadership training. How do you manage friends and former peers? Should you focus on being liked, feared, or respected? How do you obtain buy-in and cooperation? What are the most important actions you should perform? Learn the answers to these questions and what today's successful new managers and supervisors do differently in the first 60 days!
Here's a sample of what you'll learn (includes webinar workbook):
4 Things New Managers Must Do in the First 60 Days
Effectively Supervise Friends, Peers and Make a Successful Transition
How to be Firm, Fair & Earn Your Team's Respect
The Fastest Ways to Build Trust and More!
DATE & TIME: Tuesday, December 16th at 12:00 p.m. Central Time
Our 60-Minute live webinar will be held on Tuesday, December 16th at 12:00 p.m. Central time. You will receive an email with instructions for calling in and downloading the webinar workbook the day before the event.
PRICING: $199 per site location
Join us and leaders across the U.S. for this high-energy interactive webinar experience. You can invite unlimited team members to listen in at your location site, using a single phone line and one computer. You will also receive a webinar workbook to download. You can also share this webinar with additional team members after the event since you will have unlimited sharing rights for 30 days.