(Past Webinar) Coaching Skills for Managers & Team Leaders
Missed the live webinar? Get the recording! Click the purchase now button below and get immediate access to the recording.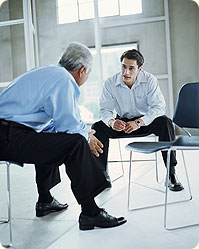 Today's managers are facing coaching challenges everyday. Employees avoiding accountability and making excuses, difficult employees infecting team members with negativity, and trying to motivate mediocre performers without money. But coaches are not born, they're made, and managers must develop the essential skills and tools to effectively handle these situations.
As a coach, you also have to constantly deliver feedback on employee performance or behavior to help employees reach their full potential. In this high-energy webinar experience, you will learn specific coaching strategies for maximizing employee performance and dealing with destructive behaviors and poor performance. Discover how highly effective managers deliver feedback and criticism tactfully, establish employee expectations, and create a healthy work environment where employees can excel.
Here's a sample of the webinar training outcomes: (includes webinar workbook)
The 7 step formula for an effective coaching discussion
5 words and phrases that trigger defensiveness
Dealing with employee avoidance: keeping the discussion focused on them instead of others
The 4 keys for establishing clear expectations
What to do when coaching doesn't work
Performance and behavior issues: when and how to intervene
DATE & TIME: Tuesday, January 27th at 12:00 p.m Central Time
Our 60-Minute live webinar will be held on Tuesday, January 27th at 12:00 p.m. Central time. You will receive an email with instructions for calling in and downloading the webinar workbook.
PRICING: $199 per site location
Join us and managers across the world for this high-energy interactive webinar experience. You can invite unlimited team members to watch and listen in at your location site, using a single phone line and one computer. You will also receive a webinar workbook to download. You can share this webinar with additional team members after the event since you will have unlimited sharing rights for 30 days.