Why Employees Don't Change After Training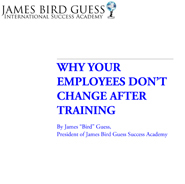 Why Employees Don't Change After Training
After training thousands of supervisors, managers, directors, and senior-level leaders across the world, one of the most frequently asked questions we receive about employee training and leadership development is "how do you make the training stick when employees return to work?"
In this white paper you will discover the three strategic best practices that can maximize employee behavior change and application back in the workplace.
You will also receive a complimentary subscription to James Bird Guess Success Academy's monthly email newsletter, packed with insights, ideas and best practices on leadership and management challenges, and exclusive notice about upcoming webinars and our latest leadership research.
Get immediate access to this white paper!