Whitepapers
James Bird Guess International Success Academy is the fastest growing research and leadership training company in the U.S. We are constantly taking the pulse of the workplace with the latest studies on management, employee engagement, and team building.
With the help of more than 100,000 supervisors, managers and leaders in corporations, state and local governments, colleges and universities, and nonprofit sectors, we offer you the best and better practices to inspire the best performance out of people. Enjoy our free reports below!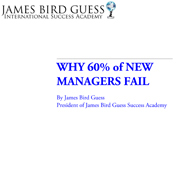 The leadership crisis is real and many organizations are ineffectively dealing with the following symptoms of lackluster leadership: low employee morale, high staff turnover, decreasing efficiency and productivity, excessive team…...
Read more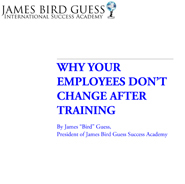 After training thousands of supervisors, managers, directors, and senior-level leaders across the world, one of the most frequently asked questions we receive about employee training and leadership development is "how…...
Read more