The Grinders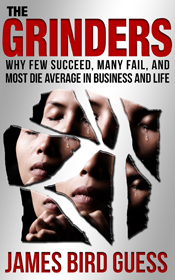 Kim is a stay-at-home wife who can no longer suppress her dreams of starting her own business. Her husband turns abusive after discovering her ambitions to become an entrepreneur.
Behind the scenes of Kim's life are two forces that will battle each other to shape her destiny—Success and Failure. Success and his team are striving every hour to encourage Kim as she undergoes the success process to reach her full potential in life. However, Failure with her team cannot allow Kim to become successful until she experiences horrific physical and emotional abuse and constant personal setbacks designed to make her give up on her dreams.
As Kim cries and crawls through her success process, she befriends an alcoholic old man who is considered the world's greatest failure and was cursed by Success and sent to the land of the has-beens. But if he helps Kim succeed, he might get a second chance to achieve his past dreams. 
 
In everyday life, most people fail or die average. And Failure gets stronger every time someone gives up on their dreams. Who will triumph when Fear faces Passion, Doubt dares Hope, and Failure smiles at Success?
| | |
| --- | --- |
| Purchase Paperback $9.99 | Purchase eBook $3.99 |