How I Made a Quarter Million Dollar$ From the Trunk of My Car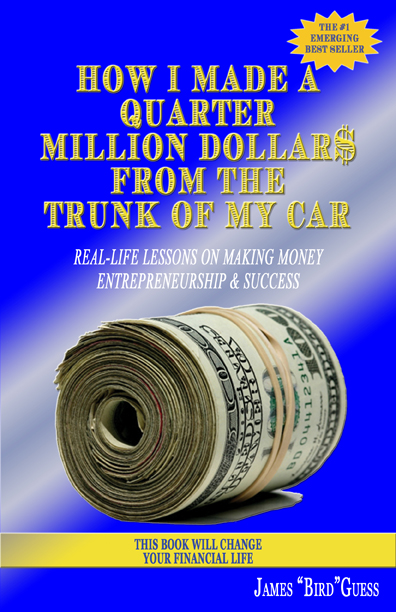 From homeless to entrepreneur success. Speaker, author and trainer, James "Bird" Guess, reveals the power of pursuing your passion and the ability to persevere through the success process. Join James through his journey of being homeless to building a half-million dollar enterprise from the trunk of his car, starting with only $1,000, poor credit and a dream to be a millionaire. What does speaker and entrepreneur, James "Bird" Guess have in common with Nike Inc. founder and billionaire, Phil Knight, Carmex lip balm founder, Alfred Woelbing, and multi-millionaire financial guru, Dave Ramsey? They all started their businesses from the trunk of their car. Learn how this street savvy entrepreneur created a 99% risk-free business model.
Now often called the "Michael Jordan of Motivation," James details the qualities that made him an overnight six-figure success, despite starting out broke, living paycheck-to-paycheck, no business plan, no bank loans, and poor credit. James Bird Guess is a speaker, author and trainer on top performance, leadership and small business growth. He went from homeless to successful boot-strapping entrepreneur, and now world-renowned speaker and trainer. Over 20,000 management leaders, small businesses and universities have relied on James to boost employee morale, improve team performance, develop innovative leaders, and increase business growth.
| | |
| --- | --- |
| Purchase Paperback $14.95 | Purchase eBook $3.99 |